Additional therapies are available for children who
participate in the ABA Abilities program.


Here's What You'll Need
A prescription from a pediatrician or other specialist in Physical Therapy.


Physical Therapists are uniquely equipped to help children with Autism Spectrum Disorder (ASD). They can help with mastery of motor skills and coordination necessary to play games, participate in sports, and socialize with their peers.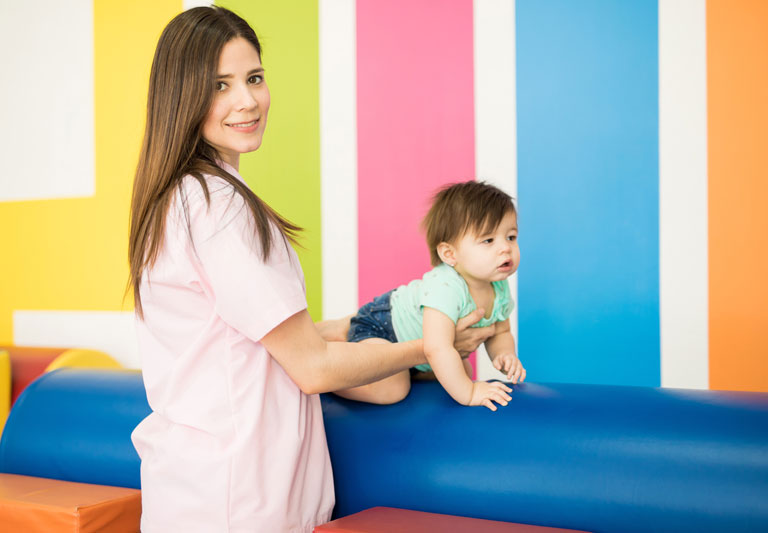 Physical Therapy
Children with Autism Spectrum Disorder often experience developmental delays and difficulties in several areas including physical challenges, such as:
Coordination and posture control
Poor balance and unstable walking
Decreased hand-eye coordination
Basic movement and gross motor skill development
Repeating of demonstrated physical actions
Physical therapy is important for children with Autism Spectrum Disorder, helping them develop the gross motor skills useful in playing games and sports and in being active with their peers.
Because autism is a spectrum disorder, each child experiences delays and difficulties to different degrees. Physical therapists are specially equipped to aid children in strengthening muscles, coordinating movement for basic activities like climbing stairs, and in using large muscles for sitting, standing, walking, and running.
Pediatric Physical Therapists:
Earn a Doctor of Physical Therapy from a school accredited by the Commission of Accreditation of Therapy Education (CAPTE) and must pass the National Licensure Exam (NPTE) before they are able to practice.
Treat individuals under 18, ranging from newborns to teenagers.
Help children improve their range of motion, flexibility, strength, and patterns of movement.
Physical Therapy gives children with autism the ability to move their bodies how and when they want, to the best of their abilities, making everyday activities, sports, and interaction with their peers easier.
Pediatric Physical Therapy typically looks and feels like play.  PTs involve children in fun activities and age-appropriate games to keep them motivated and happy. Even so, the therapy is precisely targeted to improve gross motor skills and is measured to assess results and ongoing improvements.
Individualized Physical Therapy will take place in-center at our facility for children participating in the ABA Abilities program who have a written order from their pediatrician or other specialist.
Call ABA Abilities for the help you need. 412-319-7371.