ABA Abilities is a program designed to give you
and your child the best possible start.
Here's What You'll Need
Please visit our
First Steps
page for a detailed description of what you will need to begin services.
We provide intensive services in a preschool-like setting where individualized therapies are offered in a natural, friendly and play-based environment all under the same roof.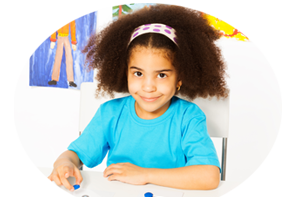 ABA Therapy
Applied Behavior Analysis
Applied Behavior Analysis (ABA) is an essential part of the program at ABA Abilities. ABA is an evidence-based critical component in helping young children with Autism Spectrum Disorder (ASD). When started early, ABA has been shown to have both immediate and life-long benefits.
At ABA Abilities, your child will receive intensive one-on-one and small group ABA sessions designed to effectively reduce behaviors that interfere with learning while building useful learning and socialization skills.
Highly Skilled Certified Therapists
ABA Abilities consists of a team of clinical professionals offering ABA services and Nutrition services in a collaborative preschool-like setting all under one roof.
ABA services will be provided by Board Certified Behavior Analysts (BCBAs), Licensed Behavior Specialists (LBSs) and Registered Behavior Technician (RBTs).
BCBAs hold a master's degree and are nationally certified
RBTs are certified and are supervised by BCBAs.
Board Certified Behavior Analysts
Use strategies of Applied Behavior Analysis, which is a science-based approach to understanding how behavior works, how it is affected by the environment, and how learning takes place in real situations.
Work to encourage and increase behaviors that are helpful and to decrease behaviors that are harmful or impedes learning.
Systematically and scientifically evaluate existing behavior and determine interventions based on what will work best for the individual
Work with your child and family to create an individualized treatment plan designed around specific communication and behavior needs
Use proven, research-based learning and motivation principles including intensive teaching and positive reinforcement
Help parents, family, and teachers to use the basic techniques of ABA to reinforce the benefits of therapy throughout the day
LBSs hold a master's degree and are certified in the state of Pennsylvania.
In addition to working directly with your child, your BCBA advocates by coordinating the best care and the right care for your child. They are problem solvers, coming up with unique solutions for individual children and crafting therapy plans that work specifically for both the individual and the environment in which they live.
Registered Behavior Technicians
Under the direction of a Board-Certified Behavior Analyst (BCBA), the RBT:
Establishes & maintains a therapeutic relationship with the client and the client's family and caregivers.
Prompts safe and socially acceptable replacement behaviors in order to build a repertoire of communication, social interaction, and problem-solving skills
Accurately collects behavior data including: A-B-C, count, frequency, duration, latency, inter-response time, event, and interval-based recording
Follows the treatment plan goals and interventions utilizing sound judgment and seeks out appropriate consultation
Working with the BCBA, educates the parents on reinforcement and early intervention information
Observes confidentiality and safeguards all patient related information.
Please see our Services pages for additional information about our team of professionals.
To learn more, call ABA Abilities at 412-319-7371, or visit our Contact Us page.